Welcome to Bainbridge Island
35 Minutes by Ferry From Downtown Seattle – A World Away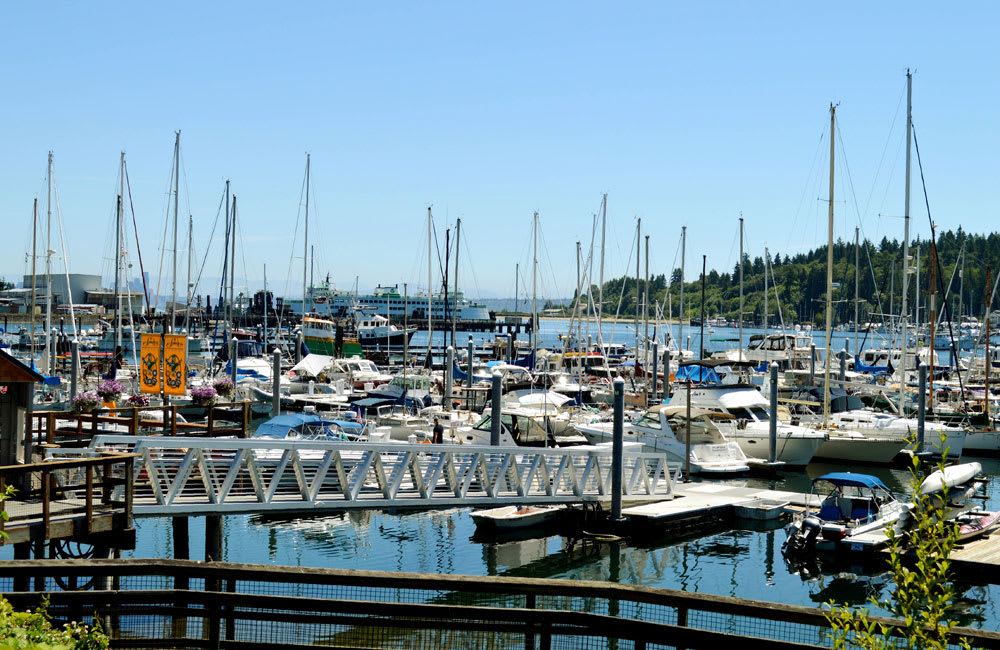 ​​​​​​A beautiful ferry ride across the Puget Sound transports you to Bainbridge Island, a 27-square-mile island that holds a rich history, a unique combination of sophistication and simplicity, breathtaking beauty, and one-of-a-kind experiences.

A short walk from the ferry is our charming Downtown district, one of 13 Nationally Accredited Washington State Historic Main Streets. Stroll into downtown and enjoy a diverse selection of locally-owned shops and restaurants offering something for everyone, as well as wonderful experiences reflective of our region, from wine tasting to adventures on the water such as diving and kayaking.

Take a look at who make our small town a friendly and relaxing place to spend one day or many. We hope to see you soon!
Destination Bainbridge
​​​​​​​Destination Bainbridge is the island's "one-stop-shop" for overnight accommodations. Looking for a cottage in the woods, a condo in town, or a beachside retreat? We have the perfect place for you.

​​​​​​​Whether you need last minute lodging or a lengthy luxury vacation, find your perfect overnight stay with Destination Bainbridge.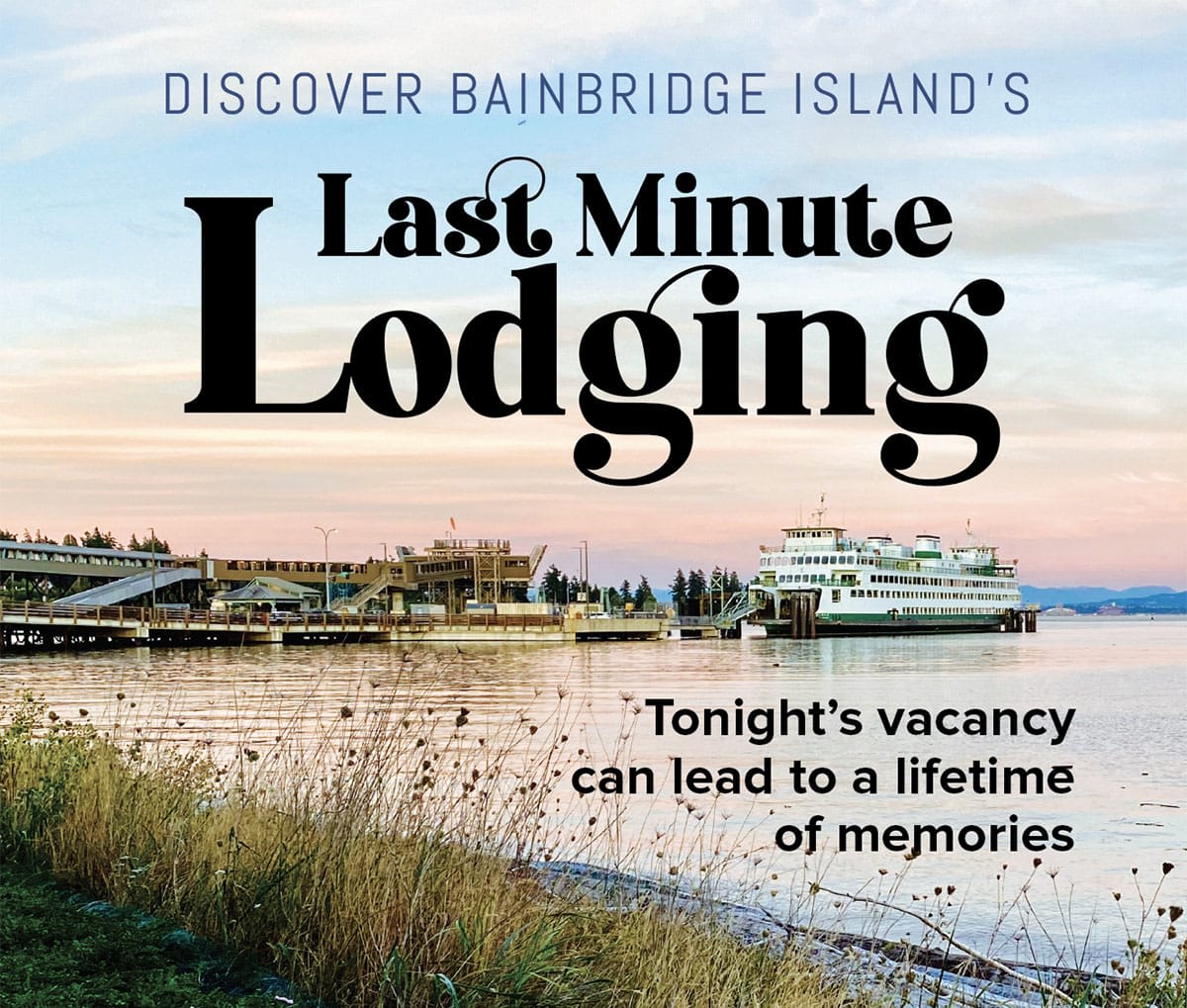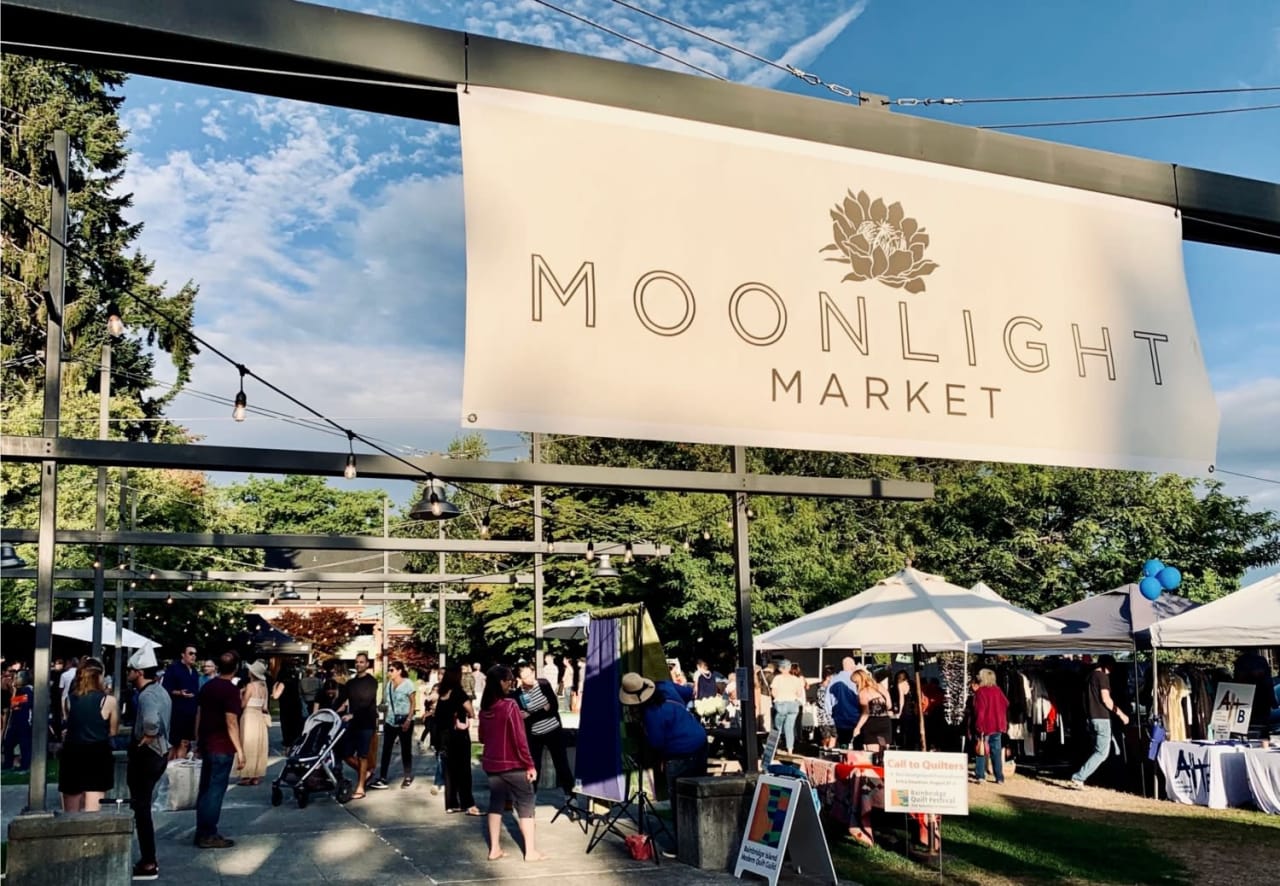 As you approach Bainbridge Island by ferry or bridge, glimpse the quiet harbors and homes along the rocky shoreline and the densely forested hills. This vibrant, diverse community, rich in history, culture, and natural beauty, is ready for you to explore. Located 35 minutes by ferry from Seattle, the island enjoys a wonderful combination of farms, wineries, hiking trails, scenic vistas, and local arts. There is no shortage of island charm, warm people, good food, and beautiful outdoors!
Island Charm
While you're discovering the island's charms, you'll surely find your way through the town center, known as Winslow. Commonly known as the "heart and soul" of the Island. Despite Bainbridge Island's rapid growth from a small town of 2 square miles and 3,147 people, the city, with input from the community, has managed to preserve its friendly aura, small-town charm, and natural environments. Islanders value the sense of country living and quick access to Seattle's business and cultural resources. Many call Bainbridge the "Nantucket," of the Northwest, with its small-town charm, curvy coastlines, and picturesque views!
Natural Beauty
Island residents are committed to preserving the sense of community and green spaces – agricultural land, forests, parks, and trails. People cherish the natural beauty of our island home, the stately firs and cedars, scenic bays dotted with small boats, and views of the snow-capped Olympic Mountains to the west and majestic Mount Rainier to the east.
Excerpt From the Comprehensive Plan Vision Statement
"Bainbridge Island is economically linked to Seattle; however, the artistic, cultural, and entrepreneurial spirit of its residents should be encouraged by providing opportunities for environmentally-sound businesses and home occupations."
A Contributing Community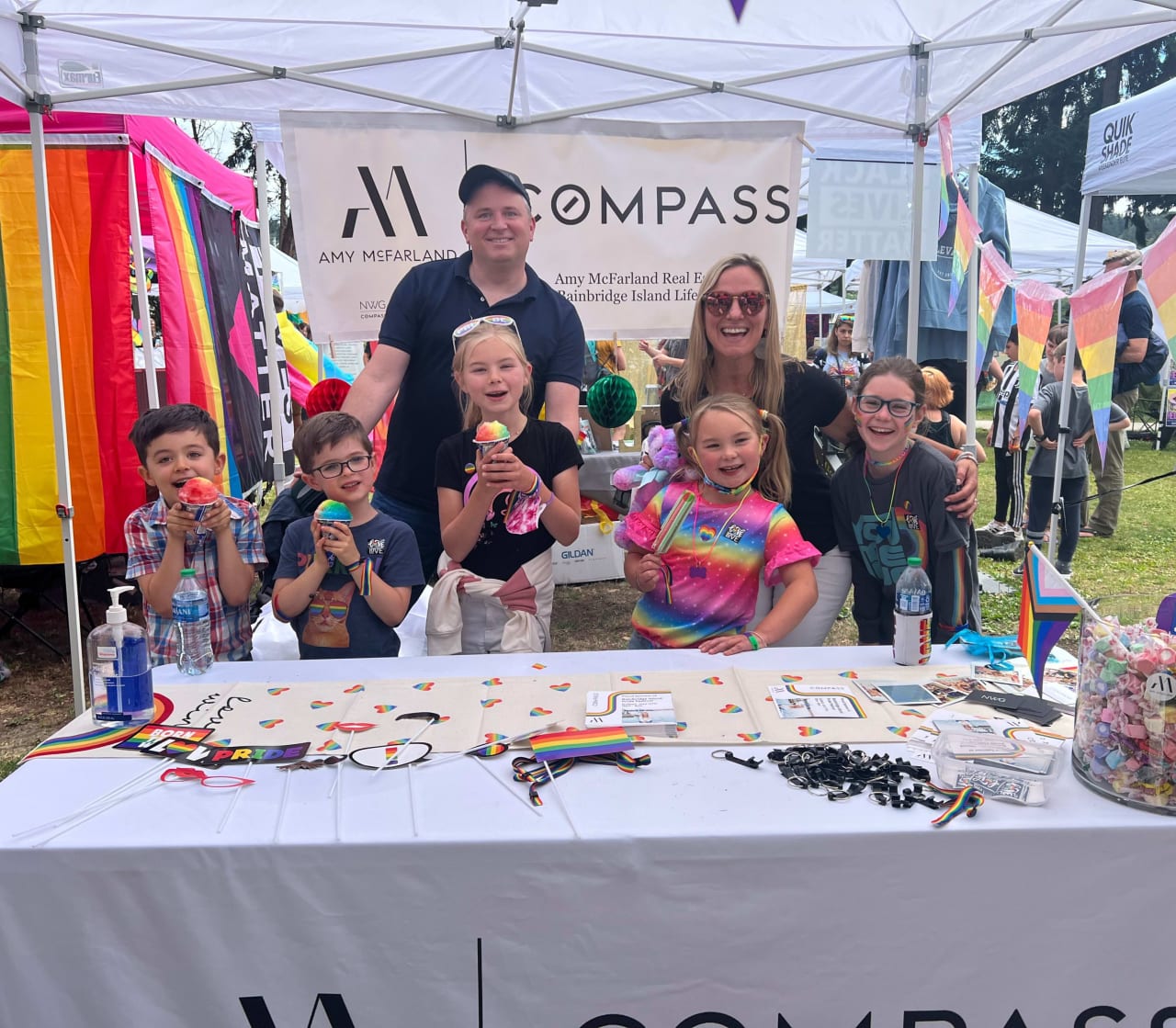 People value the special contributions the residents make to the community – through the arts, the farms, and the numerous and active nonprofit organizations. A vibrant entrepreneurial spirit is exemplified by the locally owned storefronts on Winslow Way, at the neighborhood service centers found at Lynwood Center, Rolling Bay, and Island Center, and in over 2,000 businesses. Hopefully, you have an opportunity to discover all that Bainbridge Island has to offer.
Foodie Finds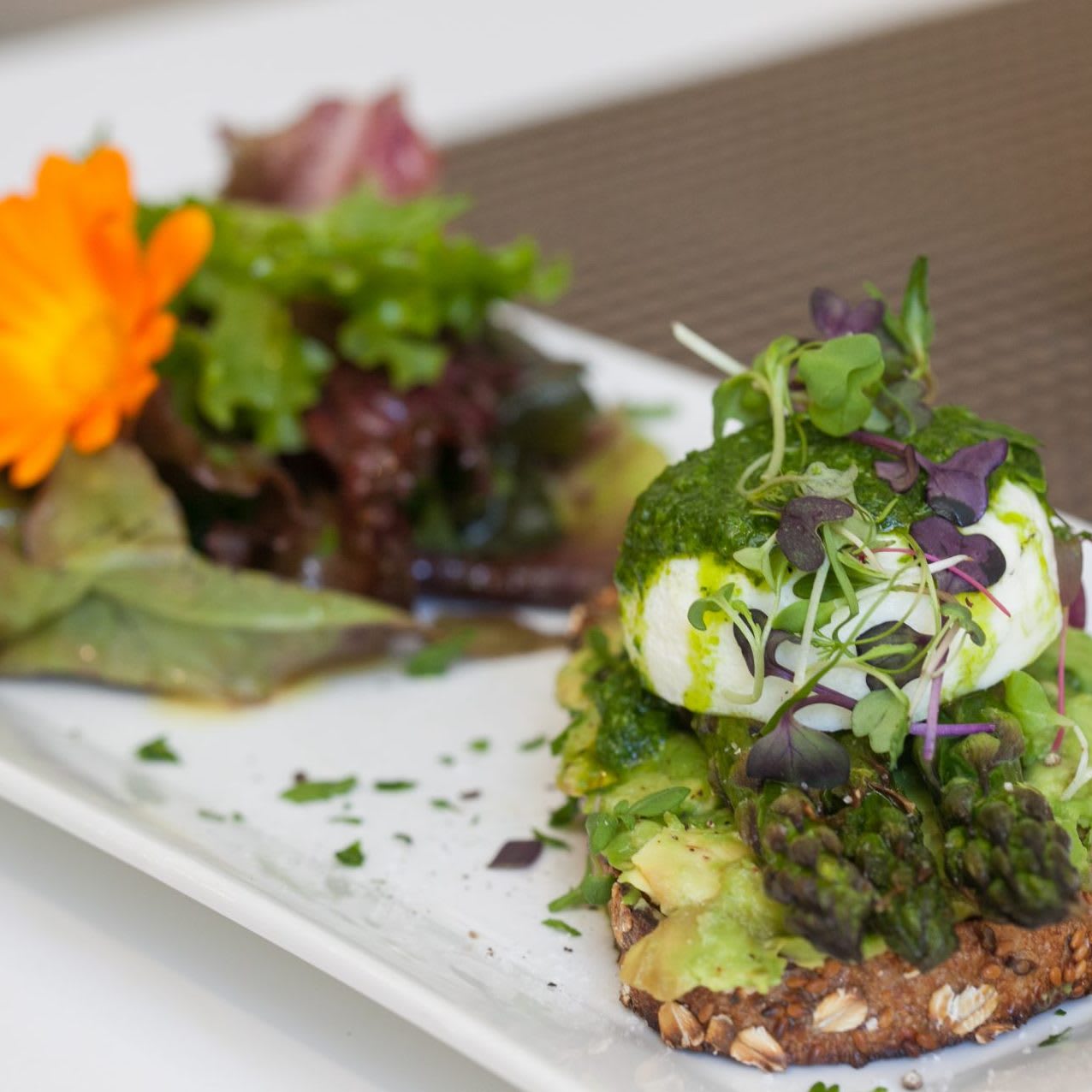 Bainbridge Island may be small, but the food experiences here are big. Bring your appetite for adventure. Globally inspired fare shares the streets with innovative casual cuisine, and gorgeous, seasonal offerings from award-winning chefs. If food is your focus, you'll find a restaurant, diner, or hole-in-the-wall that will surprise and delight.

Wander Around Winslow
Wander Around Winslow
Start your Bainbridge Island food tour in Winslow, Bainbridge's charming downtown corridor. Star chefs, delightful bistros, bustling tasting rooms, and international fare serve up casual cuisine or fine dining.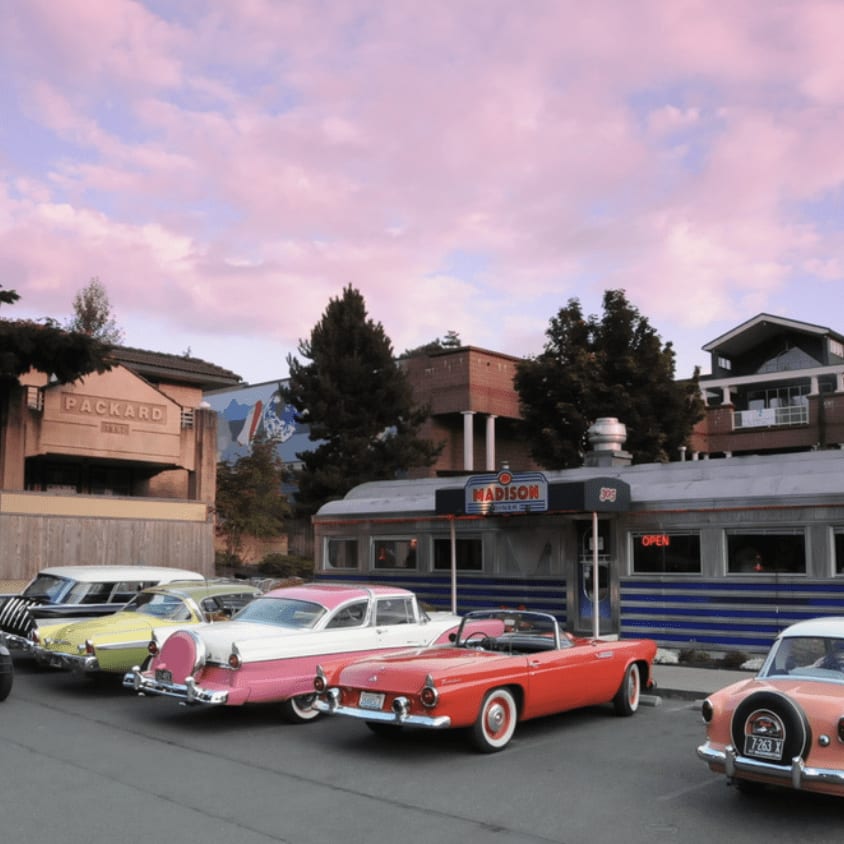 Breakfast
Bainbridge Island has a multitude of delicious choices for our breakfast crowd, some of them offering breakfast all day!
​​​​​​​

The Streamliner Diner has been serving breakfast to locals and visitors for over thirty years. The muffins and biscuits made in-house go quick, as they are a perfect complement to their scrambles. Seating is available inside to view the open kitchen or outside on the sunny patio.
is a classic train car style American eatery on Madison Avenue. Sit at the counter and watch the cook fry up some bacon or read the paper in a red leather booth while waiting for huevos ranchero or eggs benedict. They serve breakfast all day and have a great lunch menu, too.
Step into the (free), where you will find a beautifully curated collection from Puget Sound artists — and a delightful serving up artfully created and seasonally inspired Pacific Northwest cuisine for breakfast and lunch.
Housed in a landmark building on Parfitt Way, is a local legend, where folks come to enjoy music, art, friendship, and of course great coffee and food any time of the day.
Lunch
Whenever you seek American or International Fare, Winslow has a generous number of options for all palates.
​​​​​​​

For fresh Vietnamese cuisine, tucked cozily on Madrone Lane. Gregarious Thuy always has a smile on her face as she cooks up her simple, fresh and delicious pho, bun noodle salads and banh mi.
Established in 2004, Teriyaki Town serves up large portions of delectable Chinese food at great values. Think chicken katsu, stir fry vegetables, yakisoba— delicious! You can eat in their dining room, outside on their patio overlooking Winslow, or take them to-go.
If you're interested in tasty vegan/vegetarian takeout, try tiny Emme's Vege House at the corner of Winslow Way and Madison. They have outdoor seating and great views of Winslow and incredible creative vegetarian fare.
Our newest addition to the lunch scene is Coquette Bake Shop, located in Winslow Green in downtown Winslow. They have hot coffees and incredible sandwiches to be enjoyed both in their dining room and outside under cute red umbrella tables. Be on the lookout for rotating menu items.
Proper Fish is the place for British- fare. Their fish and chips are famous from their days as an extremely popular food truck in Seattle. Try their mushy peas!
has a deli counter for sandwiches and flatbreads, grab and go in the cold case, and more.
Happy Hour
We're all so happy it's Happy Hour! How about a glass of wine, a cocktail or a beer?
​​​​​​​

Located in Winslow, is a boutique producer of diverse and off-beat wines. Winemaker Matt Albee started in the California wine scene, but quickly moved to the island, with his first wines being released in 2004. You'll notice bicycle themes on many labels as Matt is an avid bike racing fanatic (this is also a nod to the island's thriving bicycling community). Enjoy their convenient downtown tasting room, and if you choose to linger, a game of chess on their board.
's two modern and cozy locations are perfect for wine lovers. Downtown Winslow offers a fabulous tasting room and a roof top seating area with sweeping views of the harbor and the downtown, and Coppertop Park often hosts live music. Their award-winning wines are offered with wine and cheese pairings. Extend your stay by renting the .
Founded by Cynthia and Hugh Remash, crafts artisanal old-world style wine. Their tasting room is conveniently located in downtown Winslow and beautifully newly decorated. Expect knowledgeable staff, very often Cynthia, to tell you all about the wines and winemaking process.
Sip on a delicious handcrafted margarita and munch on chips and salsa at Mexican restaurant. They have an outdoor patio and bar for sun and people watching.
Enjoy an award-winning, local crafted beer at the Ale House that offers a good number of guest taps in addition to their own delicious brews.
Dinner
Winslow offers the island's most beautiful and delicious options for dinner. Reservations are encouraged where they're accepted.
​​​​​​​

is a gorgeous romantic bistro offering seasonal Northwest Fare, handcrafted cocktails and an impressive wine list. The service is fabulous in this dimly lit romantic atmosphere with dramatic wall art. Reservations are encouraged and outdoor seating is also available. As you wait for your table, pop next door to the (open daily 10am to 5 pm daily) for a glimpse of local contemporary art and craft – always a free and beautiful experience. If the museum is closed, you can wait for your table while sipping a delicious locally brewed beer in Ale House.
The Hitchcock mini empire of food experiences catered by award-winning star chef Brendan McGill are destinations of their own. Hitchcock is the 10-year old flagship restaurant offering inventive and creative Northwestern fare with cozy seating in a warm atmosphere. Have a delicious seasonal handcrafted cocktail at The Burguerhaus, where the record player mixes retro vinyl, the lounge area has a fireplace, and books and board games are readily available (open late). Or head over to the amazing Neapolitan-style pizza and Italian fare restaurant for incredible pizza and seasonal delights (also open late).
In 2014, Gayot rated in the top 10 of "Most Romantic Restaurants in the US". The restaurant features locally sourced Pacific Northwest fare with a beautiful dining room in its mid-century restaurant and wonderful outdoor seating on cozy Madrona Lane. Super-friendly Chef Greg Atkinson is usually busy behind the chef's counter working over the woodfire stove, but he's known to come out to the tables to greet patrons. Wife Betsy is typically busy with patrons and knows all the best wine pairings for their incredible food. Try their famous "Mussels and Frites".
is where "Bainbridge island meets Southeast Asia". Trinh and Thai Tran are dynamic duo- a gregarious and outgoing brother and sister team who started cooking together in 2005 in sister restaurant Pho T&N in Poulsbo. The dining room is dimly lit, graced with dramatic art, looks onto the working kitchen and has a fabulous bar. Handcrafted cocktails here are a wonderful pairing with their seasonally delicacies served on large and small plates. Sharing is encouraged!
, or Sushi Bainbridge Island, is our premiere Japanese restaurant. They use the freshest ingredients from around the world. For the ultimate experience reserve a spot at one of our Tatami rooms or for an up close view of our Sushi Chefs preparing your sushi, ask to sit at the sushi bar!
Both bistro and winery, is delicious culinary choice for a wonderful romantic experience. Their new location on Winslow includes a warm and vibrant art-featured dining room as well as sunny sidewalk seating. Their elegant award-winning wines are paired with scrumptious Mediterranean small and large plates, perfect for sharing. Husband and wife team Paul Bianchi and Wendy Armstrong have created a welcoming and relaxing environment.
Late Night
Most island action usually takes place during the day, but we do have several late-night establishments that night owls will want to enjoy.
​​​​​​​

For late night steaks and whiskey, look no further than . They feature amazing grass-fed beef from the Pacific Northwest and a beautiful bar full of whiskey. They also offer delicious sustainably sourced seafood and free-range chicken. The Islander is popular destination for attendees and actors of our local playhouse, , a must-do on your romantic getaway. Since 1956, BPA has served as the heart of our local artistic community, and thrives on the spirit and energy of artists, writers, directors and musicians both local and national.
Open late on the weekends, is a relaxed waterfront restaurant offering fantastic views of the marina from their heated and enclosed deck seating, appropriate for year-round enjoyment. A very popular destination, they offer scrumptious American cuisine with a seafood emphasis and a delicious martini bar.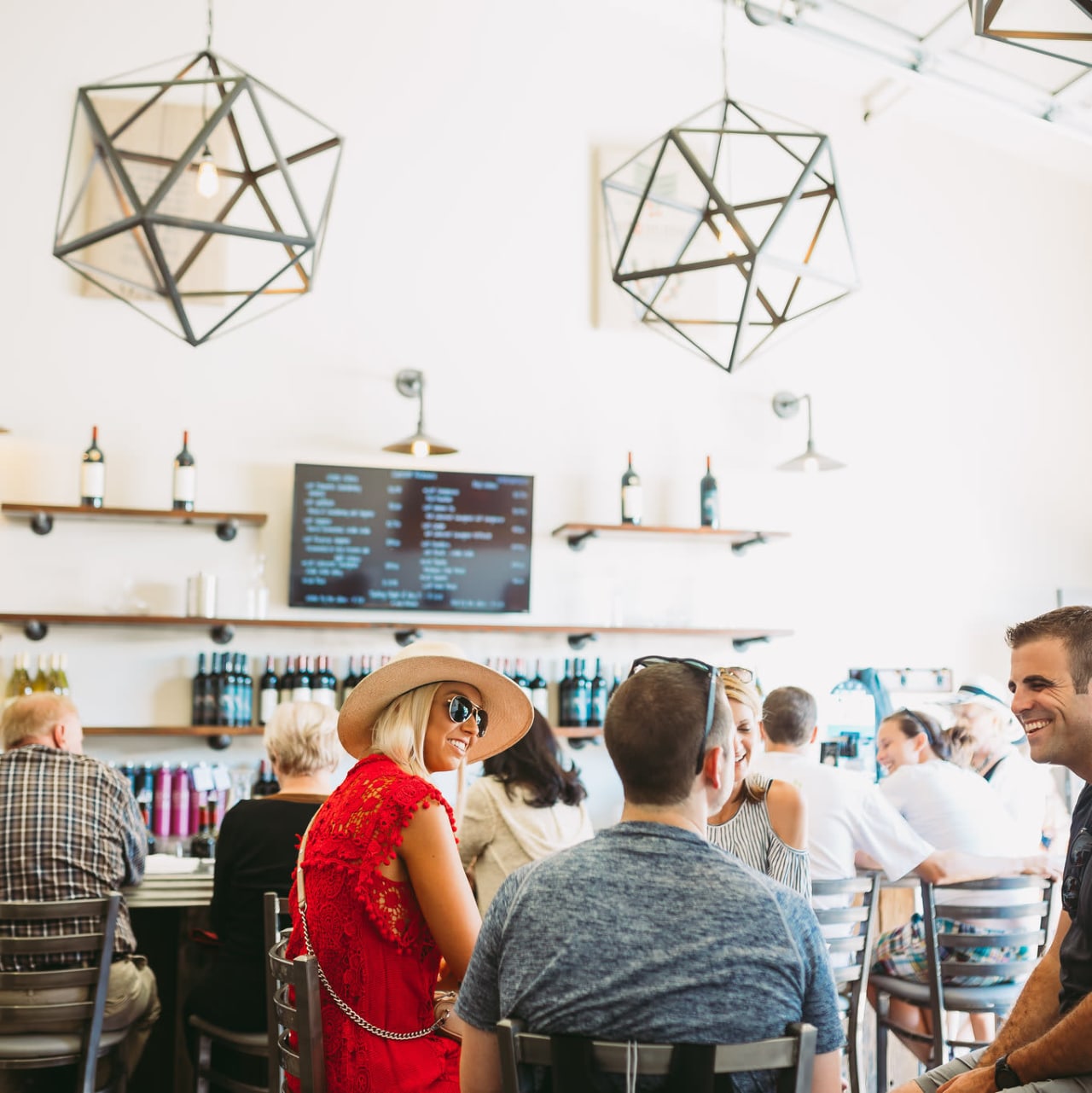 There's More to Explore
Roam around the island for a change of scenery and to sample more diverse and delicious delights.
South
Lynwood Center and the south side of the island have a handful of dining options worth checking out.
​​​​​​​

is the new star in town offering fresh sourdough donuts Wed – Sunday from 9 am until they run out. Expect a line on Saturday mornings!
has been serving the Seattle area since 2003 and offer amazing breads and baked products. In addition to their artisanal baked goods, their Lynwood location is a quaint shop that also includes market staples like pasta and sauces and cheeses.
serves up some fabulous pizza and pasta dishes. Dine in their casual dining room (they have a great bar) or enjoy their outdoor patio. Treehouse hosts live music performed by world class musicians frequently. Check their calendar for dates.
, a family-run fixture serves up Thai specialties in a welcoming interior with Zen-like decor.
Central
A quick drive from Winslow, the middle of the island also has a great selection of food for all tastes and budgets.
​​​​​​​

How about some delicious All-American bar food at ? This is a great hometown sports bar and is the perfect place to watch all your games at once on multiple televisions.
Gourmet in a gas station? You bet! Pick up amazing pulled pork sandwiches and egg frittatas at on High School road. Their baked goods are ridiculously good (they sell out!) as are their sandwiches. You'll often see super-friendly chef Jake working along with his team in the kitchen.
is a long-standing island tradition for Thai food since 1992. They cook up authentic culinary creations blending into flavor combinations from delicate to tantalizing, making them one of our more popular restaurants.
Enjoy sunny casual dining and beautiful views at The Meadowmeer Grill, located at the 9th hole of The Meadowmeer Golf and Country Club. They serve lunch and dinner with covered outdoor seating on the patio and seating indoors. They have burgers and fries, salads and dinner specials. They offer happy hour every day from 3-5pm.
North
While touring the island, don't forget to check out some local dining options on the north side of the island.
​​​​​​​

For a tremendous Italian experience not to be missed, visit for lunch and dinner. They make the pastas and pizza dough in house, which they fire up in their wood stove. They have dining inside and out, as well as fresh to-go pastas and sauces. Before you leave the neighborhood, enjoy some wine tasting at .
is a small neighborhood coffee shop focusing on quality coffee sourced from local roasters. They also offer delicious baked goods, which you can enjoy outside at one of the bistro tables, or while you walk through the gardens of Bay Hay and Feed.
Beyond Bainbridge
There's lots to see (and eat!) on the greater Kitsap Peninsula, beyond Bainbridge. Head north over the Agate Pass Bridge, for new, delicious adventures.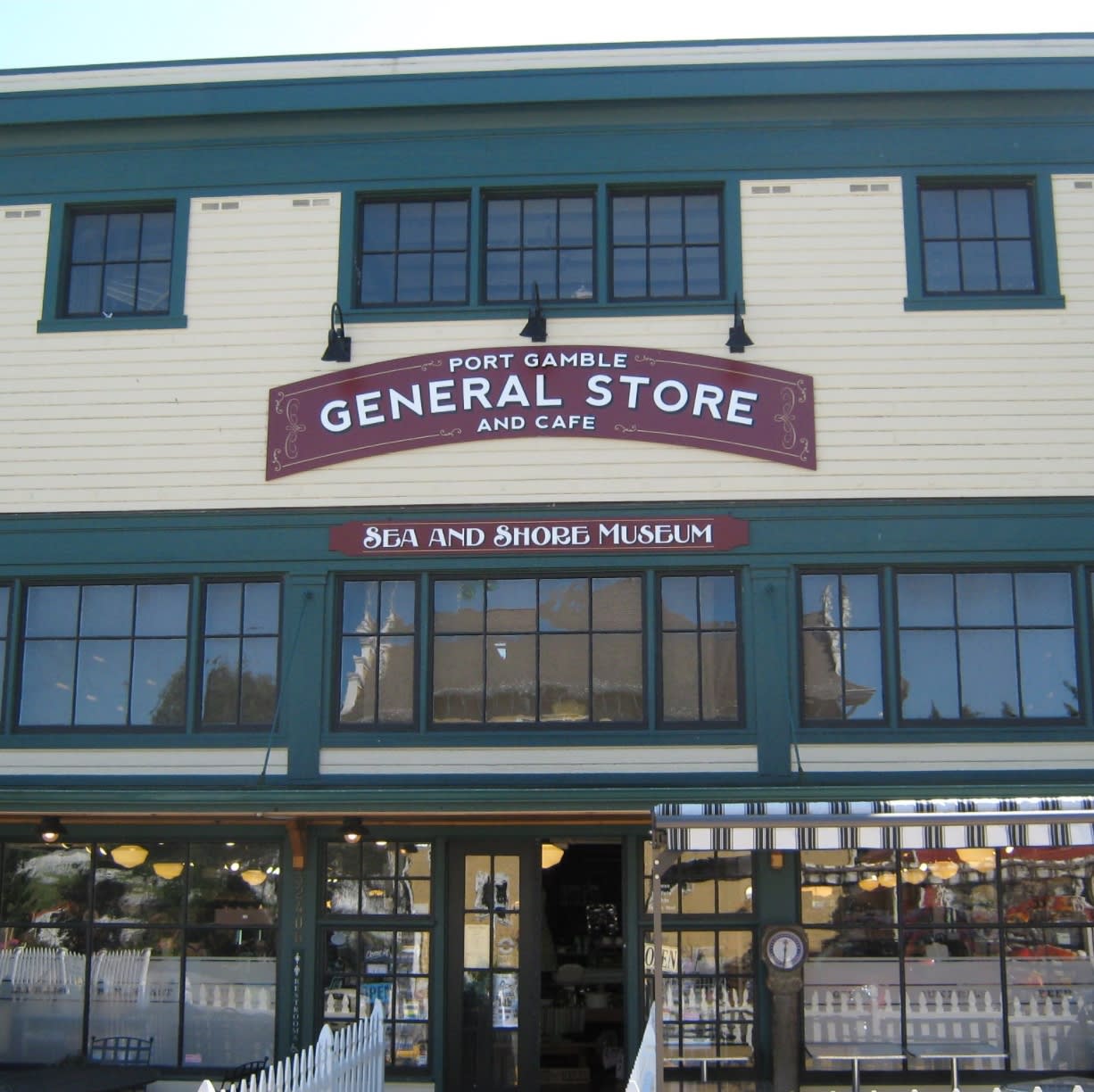 Port Gamble
Port Gamble is a quaint, historic mill town, situated along the Hood Canal. It's one of Washington's oldest towns, and there are plenty of shops to explore and an interesting museum. For lunch, we recommend noshing on something from the . It was once named "the best out-of-the-way restaurant" by West Sound Home & Garden Magazine.
Scratch Kitchen is next door to the General Store that offers beautiful outdoor seating with views of Puget Sound and the scenic town. They have lots of scrumptious sandwiches, salads and pizzas. Or just order a cocktail and a snack and enjoy the view!
The has incredible small batch artisanal food that you can enjoy in their farmhouse restaurant or take with you. They have a wide array of charcuterie and traditionally cured meats, as well as baked goods and pastries.
Chimacum
Head over to a popular foodie destination in Chimacum, from Friday – Sunday 12-8pm. They have many delicious ciders on tap that you can enjoy in their Cidery Garden and Farm, plus scrumptious sandwiches and pizzas. This is a wonderful place for kids and families.
Along the Hood Canal
Venture up to and Farm Store along the Hood Canal in the afternoon from Friday – Sunday to visit their fresh Oyster Saloon. It's a lively, rustic seafood spot with picnic tables and waterfront views.
Neighborhoods